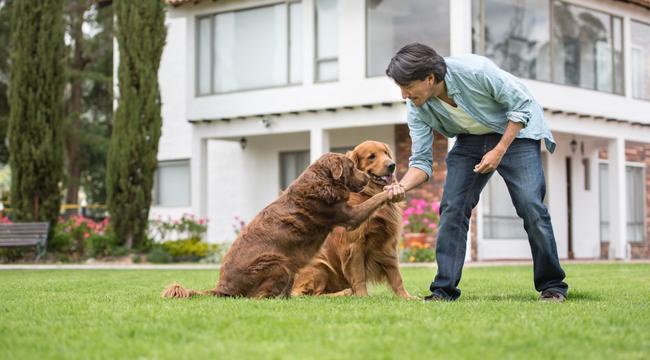 Whenever you are training your dog, it is recommended that you always take time and teach your dog certain commands or actions. There are important and basic commands every dog should know. Basic commands are very important since they will give your dog a sense of order and structure. The commands will also help you effectively manage some common behavior problems. There are cases where a well-placed command will help save your dog's life. You may also need some training aids like best wireless dog fence to facilitate training.
Before you start teaching your dog the basic commands, it is important that you remember:
Make the learning sessions simple and short
Be regular with the training and patient
Never to push the dog hard at the start
Ensure the training is fun and entertaining
Reward the dog when necessary
Here are some of the basic commands you need to teach your dog.
Read More: Beagle Pitbull Mix – Is This Cross Right for You?
1. Look
Making sure the dog's attention stays on you is one important aspect you need to consider when training a dog. You need to teach the dog the watch me or look command to ensure your dog focuses on you no matter what type of distraction is there.
2. Emergency Recall
Emergency recall command will ensure that your dog will run to you in every situation and in any day. This command is mostly in emergency situations such as when the dog is about to run in front of a speeding car. Training your dog an emergency recall can help save its life. This command is different from the come command.
3. Come
The recall or come command can save you from lots of frustration and aggravation. You can always use this command to get your dog come back to you whenever it slips out of its leash. To come over for some play or cuddle or return inside quickly from the yard.
4. With Me
This is a command you can use to help keep your dog from pulling on the leash. It means your dog will walk with you in a relaxed manner at the same pace. Having a loose leash will make walking with your dog more fun.
5. Leave It
This is a basic command that is used to tell your dog not to pick something he is getting to. This will help prevent your dog from eating something harmful or will help you save your favorite dress or shoes from being chewed. You will also protect your dog from eating dangerous things.
6. Drop It
This command will help ensure a dog drops anything he picked up. Just like the leave it basic command, the drop it commands can also help save your dog from eating anything that is dangerous or can cause injury. The drop it commands will also help prevent your dog from chewing up your possessions.
7. Sit
This is the first command most dog owners teach their dogs. Although it appears to be basic, it can play an important role in helping manage unwanted behaviors. For example, no dog can sit and jump at the same time. Training your dog to sit down, you will be able to prevent him from jumping.
8. Lie Down
This command is important for several reasons. Just like the sit-down command, the lie-down command is incompatible with certain behaviors. No dog can jump or surf counters while lying down. A lie-down command is a tool that will help manage a number of unwanted behaviors. It also encourages excited dogs to relax. This command also acts as a block for a number of other commands. For example, before you start teaching your dog to roll over, you will first have to teach him to lie down.
9. Stay
This command can be useful in a number of situations. It can help keep your dog out from under your feet and can also help save his life by protecting it from running into dangerous situations. You will be able to manage your dogs' behavior in private and public when you teach him to stay on cue.
10. Wait
You can use the wait command to help teach your dog to remain static until when you will give him the move command. This command is perfect for helping keep a dog in his crate, car or out of a door. The wait command will tell your dog to be patient and that he can still get what he wants.
The above commands will help keep your dog safe and improve your communication with him. It is worth the investment of your effort and time. However, you need to remember that the process will take time. If you are new dog owner and want to stop your dog's excessive barking you can use bark control gadgets.